Windermere Estate
Where
Munnar, Kerala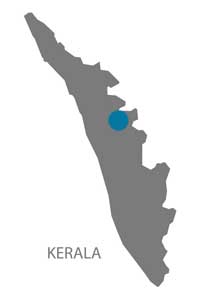 Overview
Windermere Estate is a beautiful planter's retreat in the hills, situated 1600m above sea-level in the upper reaches of the Western Ghats a short drive from the tea-growing hill station town of Munnar.
Munnar was a favored summer retreat for the British during colonial times due to its cooler climes and spectacular scenery. The Windermere Estate is small planter's bungalow-style hotel that offers breathtaking views, spacious and comfortable rooms, attentive service and accomplished food. The plantation grows cardamom, pepper, tea and coffee.
Windermere Estate in Pictures
Accommodation
Windermere has 5 Farmhouse rooms, 4 Garden facing rooms and 8 Cottages. The split-level 'farmhouse' has five small rooms around a garden and a communal verandah. The two cottages are enormous and sparely furnished. Cottage bathrooms are similarly outsize, and the picture windows bring the mountains to you.
Room amenities include telephones and televisions in all rooms. Towels are changed daily, and sheets every other day.
Facilities
called 'The Hut', and the 'Boulder Garden' for bonfire and barbeques. ''On the Rocks" is a boulder that dominates the property, with its stunning 360 degree views. There is a telescope providing a 360° uninterrupted breathtaking view of Munnar.
Day treks are organized in the surrounding countryside, including visits to Eravikulam National Park, about 19km away, to see the Nilgiri Tahr, a rare species of mountain goat. Mattupetty Dam is 13km and offers some wonderful boating opportunities. One may also trek through 60 acres of meandering greenery of the Windermere Cardamom Estate.
Guides can also take you on an early morning trek, winding up through the hardy tea plants to the top of Chokkan Mudi at 2,500m, overlooking Windermere (two hours), or to Attukkad Waterfall (40 minutes). Since you're in the midst of Tata tea country, this is the place to visit a tea museum, where the history, processing and art of making a cup of tea are all revealed..
GET IN TOUCH WITH A DESTINATION EXPERT