Fragrant Nature
Where
Kollam, Kerala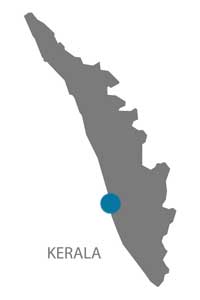 Overview
Fragrant Nature is a small scale eco-friendly resort in a waterside location designed to focus attention on natural beauty, avoid damage to the environment and bring benefits to local communities. Wherever possible staff is recruited from the village next to the resort and goods and services are purchased locally. The five architect designed villas offer spacious accommodation including a twin bedroom with en suite shower room, a living room and a balcony overlooking the lake. Each villa also has its own private garden and lily pond.
Fragrant Nature in Pictures
Accommodation
The villas are built out from the terrace area and each bedroom has commanding views of the lake from its elevated balcony. Each villa is comprised of bedroom, living area, shower and bathroom, private garden and pond. The villas are designed with couples in mind but are spacious enough to accommodate an additional adult or up to two additional children in the lounge area. Villas feature ceiling fans as natural breezes mean AC is not required AsiaNet cable TV and fridge, IDD telephone, tea and coffee making facilities. Each villa is detached and includes an enclosed lily pond and private lawned garden.
The villas have been designed to be energy efficient with solar panels and the surrounding land kept as a wildlife garden. Room Service is available and staff will be happy to lay a table in your villa, complete with candles and flowers, on request
Facilities
Fishing with locally-made bamboo rods, Sunset boat trips, Bicycle hire Bird watching on the lake and river, Village cookery demonstrations, Walking and Picnics along the scenic coastline at Kappil. Cultural programmes – such as Kathakali, Mohiniyattam, Bharatha Nattyam, Classical Music and Kalarippayattu Elephant riding, feeding and bathing.
GET IN TOUCH WITH A DESTINATION EXPERT