Kerala Experiences - Wildlife on Periyar Lake by Boat
Places
Cochin (Kochi)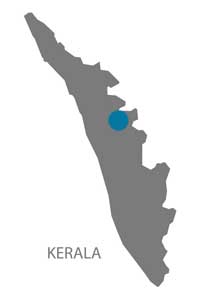 One of the best ways to explore the Periyar Tiger Reserve is by taking a boat ride through the Periyar Lake. It offers travelers the opportunity to view the natural beauty of the forest with its tall trees and resident wildlife. The lake itself blends seamlessly into the landscape of the region and is a major part of the reserve's eco system that harbors terrestrial, aquatic and subterranean life forms… It serves as a major source of water for the wildlife and also comprises of several small islets along its course.
The lake is surrounded with a thick dense tree line on either shore. These trees are home to some of the resident avian species that are unique to the Periyar Tiger Reserve. Set high in the ranges of the Western Ghats is the Periyar National Park and Tiger Reserve. Within its 777 sq. km. of deciduous and evergreen forest roam some 750 Elephants that are best observed on a 2-hour boat trip around the lake at the heart of the sanctuary.
Apart from Elephants, the other animals to be seen at Periyar include Gaur (Indian Bison), Wild Pigs, Sambar (Elk), Barking Deer, Mouse Deer, Dole or Indian Wild Dog and very rarely, a Tiger.
There are now, an estimated 40 Tigers and a similar number of Leopards in the reserve. Four species of primates are found at Periyar – the rare Lion-tailed Macaque, the Nilgiri Langur, Common Langur and Bonnet Macaque. Periyar also happens to be the habitat of the elusive Nilgiri Tahr, which is rarely to be seen.
GET IN TOUCH WITH A DESTINATION EXPERT