Kerala Experiences - Tribal Heritage Walk
Places
Cochin (Kochi)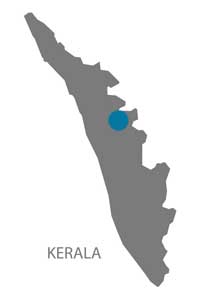 The programme involves a walk through a nature trail to enter a tribal settlement inside the dense forest. The walk through the thick forest with its criss-crossing brooks and the chirping of the birds in the background is a fantastic experience. The tribal folk live in grey-thatched houses like the ones they have lived in for centuries. Though their lives are full of challenges, they are a peaceful people who live in harmony with Nature. The programme provides the unique opportunity of a close interaction with a tribal community.
The Mannan community is the oldest community of aborigines in the Periyar Tiger Reserve area. Until the first half of the 20th century, they were involved in only two main occupations – fishing and cultivating a few basic crops in the remotest areas of the forest. The Tribal Heritage Museum, set up by the government tourism authorities inside the Mannan settlement, is well worth a visit. The museum provides a glimpse into the history of the tribal community here that includes artifacts from earlier times.  It provides a peep into the community's original culture and lifestyle
The tour organized as part of the Tribal Heritage Programme can be taken every day in the morning and evening – from 8 am to 12 noon and 2 pm to 4 pm. The visitors are taken on the nature trail in groups by a tribal guide.  The trekkers are advised to wear light clothes of cotton and to carry drinking water.
GET IN TOUCH WITH A DESTINATION EXPERT