Sri Lanka Experiences - Knuckles Mountain Range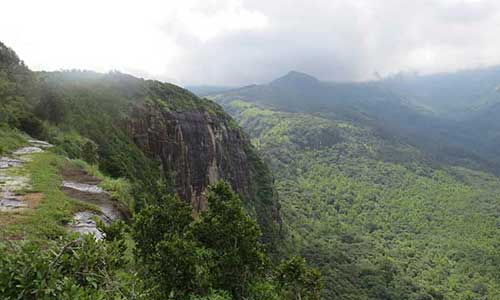 Places
Kandy, Central Highlands
The Knuckles Mountain Range lies in central Sri Lanka, in Kandy. The range takes its name from a series of recumbent folds and peaks in the west of the massif which resembles the knuckles of clenched fist when viewed from certain locations. Whilst this name was assigned by early British surveyors, the Sinhalese residents have traditionally referred to the area as Dumbara Kanduvetiya meaning Mist-laden Mountain Range.
The higher montane area is often robed in thick layers of cloud. In addition to its aesthetic value, the range is of great scientific interest. It is a climatic microcosm of the rest of Sri Lanka as the conditions of all the climatic zones in the country are exhibited in the massif. At higher elevations there is a series of isolated cloud forests, harboring a variety of flora and fauna. The Knuckles Mountain Range is a gorgeous UNESCO World Heritage Site and a popular spot for hikers.
The dense forest, surrounded by 34 mystical mountains that range from 900 to 2,000 meters, is home to stunning hiking trails. With cascading waterfalls in every clearing, quaint villages hidden amid the mountains, many a terraced rice fields as well as numerous rare and elusive animals, this 234-square-kilometre range displays the best of Sri Lanka's diverse natural beauty.
GET IN TOUCH WITH A DESTINATION EXPERT