Sri Lanka Experiences - Day in Jaffna
Places
Jaffna, North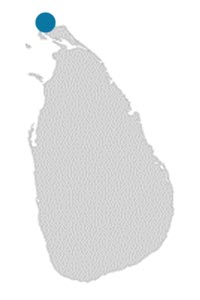 Jaffna, the northernmost region of the Island of Sri Lanka, is one of the oldest habitation sites in Lower South Asia, populated by Tamil speaking people. It is in close proximity to the sub-continent of India and separated from it by the Palk Strait and the Bay of Bengal. The peninsula is actually almost an island; only the narrow causeway known as Elephant Pass – for once elephants did wade across the shallow lagoon here connects Jaffna with the rest of Sri Lanka. Jaffna is low lying; much of it covered by shallow lagoons, and has a number of interesting islands dotted offshore. Most of the area is dry and sandy, and the most common tree is the Palmyra palm with its elegant fan-like fronds. Locals here tap it for toddy, Jaffna has it all, friendly people, a rich culture, salubrious climate and a picturesque environment go to make it a veritable traveler's paradise
Jaffna Fort, Situated on the south side of the Jaffna peninsula at the water's edge of the lagoon, the ancient fort in Jaffna is the second largest existing fort in the Island. Originally built by the Portuguese in 1619.
Nallur Temple, Nallur Kandasamy Kovil is Jaffna's premier place of Hindu worship. Nallur Kandasamy Kovil characterized by a golden arch and elaborate gopuram attracts hundreds of pilgrims and worshippers. The present building of the kovil goes back to the eighteenth century.
Nagadipa Purana Vihara, This Temple is one of the three places in Sri Lanka where Lord Buddha has visited so Nagadeepa viharaya is an important destination for Buddhist pilgrims. Purana Vihara were constructed by the two warring Naga kings, Mahodara and his nephew Chulodara,
Casuarina beach, one of the best beaches in the Jaffna peninsula, the shallow waters and the very gentle waves making it an ideal for safe sea bathing. You can a long way toward the sea in the clear blue water and a great place to visit
Keerimalai/Naguleeswaram Temple, Keerimalai is renowned for its natural water spring where illnesses and sicknesses are cured miraculously after bathing in it. Only a stone wall separate the pool from the sea but the water is fresh water coming from a spring.
GET IN TOUCH WITH A DESTINATION EXPERT